We're so pleased to announce that Bennetts Coaches claimed the Gold Award at  Wembley for the Family Business of the Year awards!
A Gloucestershire business are celebrating becoming Wembley winners at the National Family Business Awards.
Bennett's Coaches claimed the Gold Standard and can now claim to be the National Champions for Hotel and Leisure at the awards ceremony at Wembley Stadium.
The third-generation family firm have been a well-known presence in Gloucester for many years with their striking blue and orange coaches.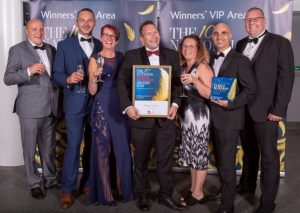 Mark Holland, Coach Driver – National Express, Slobodan Bosnic, Coach Driver – Private Hire, Melissa Lovell, Business Manager (Granddaughter of Founder), Gavin Bennett, Managing Director (Grandson of Founder), Maxine Betts (Granddaughter of Founder), representing Peter & Jean Bennett (Son & Daughter-in-Law of Founder), Ian Betts, (Husband of Maxine Betts) Workshop Repair Mechanic, Paul George, Workshop Mechanic
They have a fleet of more than 30 coaches and employ in excess of 60 staff from their Eastern Avenue headquarters.
Melissa Lovell, business manager for Bennett's and granddaughter of the company's founder said: "It was a great honour to attend the event along with over 100 other family businesses and to be able to collect such a coveted award.
"As a third-generation, Gloucester-based coach operator, to have been recognised nationally as an outstanding Family Business is exceptional.
"We were chosen for the award by an esteemed panel of nine judges including previous National Family Business Award winners, professional advisers and ambassadors of the family business sector.
"The panel took into account our company history and growth since we were established in 1962.
"They considered our proudest moments, our commitment as a company to our staff and our continual support of local schools and charities through our donations and fundraising events."
Bennetts operate numerous services across the county, from National Express coaches to private high and an extensive home to school transport services.
They are committed to offering that same friendly, family service that they first offered in the 1960s is the key to their ongoing success.
"Family businesses are at the heart of the community and deliver the best possible services as everything we do is with care and passion," Ms Lovell said.
"Everyone appreciates the personal touch you are able to offer as a business, from our customers, our staff and contractors.
"We are proud to be a company that is loyal and cares. Our day to day operations are very much a team effort."