Bennetts Coaches Fundraising
We are delighted to announce that the Bennetts Coaches Charity Fundraising Event that took place at our Annual Staff Party on 5th January 2019, raised an incredible £3,073.83 for Breathe Magic! Without all the various contributions from staff, family members and companies this would not have been possible. We are delighted to have been able to support this fantastic charity and thank you to all who took part, your help really is much appreciated.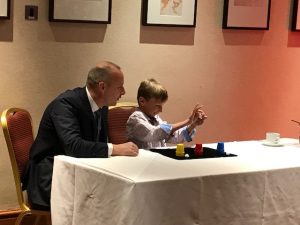 Ashton performed his magic for us all on the night.
We were always going to put one child through the program and as we've raised over the £2,550.00 target Bennetts Coaches is making up the difference to enable a second child to experience the programme. So, in total Bennetts Coaches has actually raised £5,100.00. This is by far the most our company has raised for a charity in one year. We could not be happier with the efforts of those involved and the amounts raised. This really has been a fantastic year and a great effort made by all!
You can find out more about Breathe Magic via their website: www.breatheahr.org and the programme is explained beautifully in the following video: http://breatheahr.org/videos/2015-summer-camp/